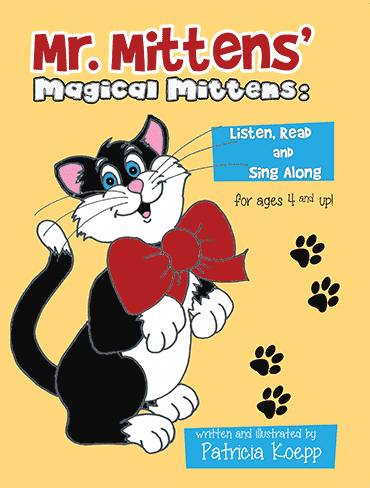 Click the link below to be taken to the shop & get ready to have a bonding experience with your child.
Click here to see how one Grandmother uses this book to teach her 3 year old grandson how to read!
Book 1
Mr. Mittens' Magical Mittens
This book introduces Mr. Mittens, the playful tuxedo cat. The music CD plays as the child turns the pages and sings along. After the main story, there is a coloring book section that includes the same illustrations that came before, only in black & white so children can color them in. There is a hard copy music CD that can come with the book or use the optional "free download code". This book helps kids think about the things that make them special and how they can use these things to make the world a better place. It also helps kids see special things in the people they know. You can also get the plush toy cat that is the "look-alike kitty" for Mr. Mittens.
Hear a sample of the music.