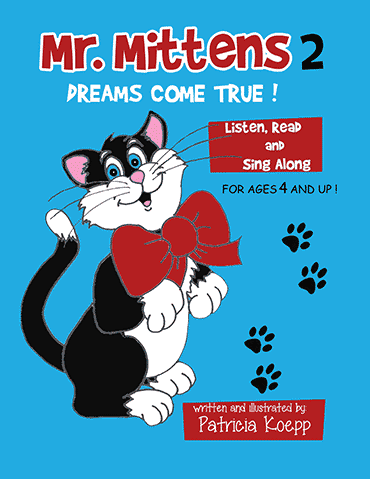 Click the link below to be taken to the shop & get ready to have a bonding experience with your child.
Book 2
Mr Mittens 2: Dreams Come True!
Now that the child knows who Mr Mittens is, the reader finds out that his story started out at an animal shelter. It was here that Mittens would sing at night about his dream of a "forever home". He meets a friend who sings along with him, but they can't see each other because of the confines of their cages. When they are adopted they discover that they are a cat & a dog and they happily go to their new "forever home" together. This book helps kids think about the differences between people and how to appreciate people who are different from themselves. It also has the coloring book section, sheet music, and the new music CD. This book even has the new plush toy dog named "Buddy" that matches the dog in the book!
Hear a sample of the duet between Buddy & Mr. Mittens: "Mr. Mittens 2: Dreams Come True!"