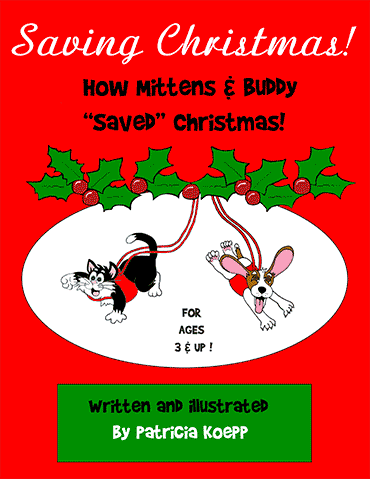 Click the link below to be taken to the shop & get ready to have a bonding experience with your child.
Book 2
Saving Christmas! How Mittens & Buddy "Saved" Christmas!
The holidays have arrived and Santa's elves & reindeer have come down with the flu. How will Santa get all the toys they made to all those children around the world this year? Mittens and Buddy come to the rescue in this poem reminiscent of "The Night Before Christmas" (written in the early 1800s).
This holiday book is like two books in one. In the first version of the poem Mr. Mittens "saves the day" and in the second version Buddy "saves the day". However, there are deeper lessons to be taught in this poem which is set to lively, toe-tapping music. It brings up questions like "Who really 'saved' Christmas? " and "Do you ever feel too small to do anything 'important?".
Like the preceding 2 books, this book has the color illustrated poem, the sheet music for the song, several coloring sheets, and the music CD.
On this music CD are the Mr. Mittens' version of "Saving Christmas", Buddy's version of "Saving Christmas", and the instrumental version, too! You can hear each version here: